Hey all, and welcome to a very special post because today is a very special day! Because today is Star's birthday! Just like every year, I've prepared some questions for her to put her in the hot seat! So here you go, today we're going to be wishing her a happy birthday and seeing her answers. Oh, and just so you know. I wrote her answers word for word as I asked. Because honestly, her unfiltered answers were hella funny. So please enjoy her answers and if you so desire, drop a Happy Birthday in the comments!
What is the weebiest gift that you wouldn't want to receive?
She stares at me with a cold gaze. "I think you already know that." She says–her voice deadpan as I type on my keyboard. "An underage dakimakura. A second is a decal on my car."
If you could end any anime what would it be and why?
"One Piece because I just want them to find the goddamn treasure. I mean the one piece. I mean the goddamn one piece." I laugh and stare at her, typing away. "ONE PIECE." She emphasizes. "ONE PIECE."
If you could have dinner with any anime character from the current year who would it be?
"Noe. NOE. That's my answer. I think he would make a very delightful dinner guest." She pauses thoughtfully. "A very delightful dinner guest." I agree with her, relishing in the fact he is a fellow INFP like myself.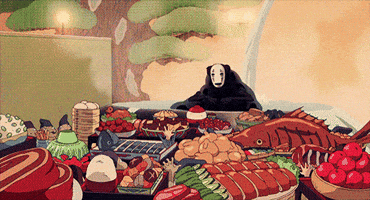 What anime food do you wish you could eat on your birthday?
"Just one or like…? Do I need to do like a full menu?" She looks at me for answers. I tell her whatever she wants. "Oh Jesus. Oh a similar question was posed to me when I found out Miyazaki was having a theme park. And I say that I would try everything." I look at her for clarification. "That's it. I want a coursed meal. Or days of. Of everything from every Miyazaki movie. Cause it looks so good." I decide that I'm not paying for that meal.
If your friends got you one of those tiered birthday cakes who would you want to pop out of it? (Real or fictional)
"Did you say fictional or real?" I clarify. "Miyavi. Guitar in hand. Because he used to sing happy birthday at every concert. It was real cute. Every single one. Cuz he was like I know it's someone's birthday so we're going to sing them happy birthday. So fucking cute. That's the dream. See a Miyavi concert on my birthday. Its never going to happen." I take notes.
Stay weebtastic!
xoxo
Luna