Hey all! Welcome to another day of Niji Nights our magical summer event made in honor of Pride month! This post is all about differentiating between Yaoi and BoysLove! For those of you that are a little confused already I'll guide you down a path by pointing what other people have said about the genre and talking about what I agree and disagree about each topic.
Yaoi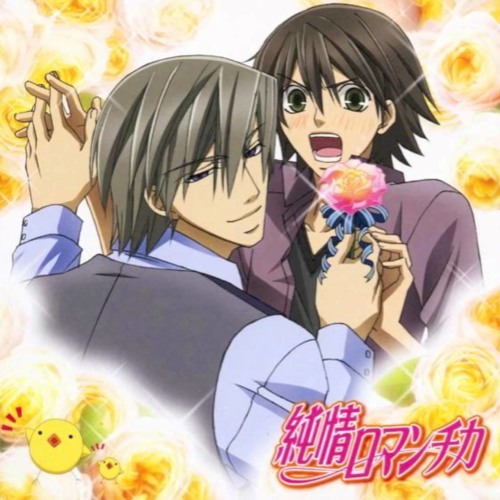 Is not for the innocent audience. The plots can be very traumatic and questionable in consent and action in terms of accurate betrayal of romantic relationships. Not all of them are this way.
Yaoi is a Japanese word, which is actually something of an acronym. It comes from "YAma nashi, Ochi nashi, Imi nashi", which means "no climax, no point, no meaning".

In speech and writing, it's a slang term used to refer to stories that focus on homosexual relationships, usually between men. Yaoi tends to involve graphic sex, often with little or no plot. The female equivalent is yuri.

A related genre is shonen-ai, or "boys' love", which tends to involve less sex and more cuddling (and plot).

SolarCat, 2005
Given (no pun intended, it's a BoysLove), I have not fact checked the history of how Yaoi got it's name but I can agree with "homosexual relationships between to men" (even though I don't like the word homosexual it's technically the right term; Nowadays we say, same-sex relationships). I also agree that Yaoi is more sexual visually in terms of content that you may read or watch. Back when this definition was posted, Yaoi was just the sex scenes. But now, there is in-depth plots that are not all Hentai -coughPORNcough-. (Not to say that Hentai doesn't have plots. Honestly, if Game of Thrones counts as a Drama and not porn than where truly is the line? Especially if porn is just watching the act of sex but I'm no professional.)
In the Japanese industry, Boy's Love, homosexuality, gay love.

What every otaku will inevitably stumble upon and pass by.
What every female otaku will inevitably stumble upon and remain.
Popular in fanfictions usually including the girl's favorite pairing, two characters that are coupled together.
Consists of doujinshi and fanfictions, also drama CDs.
Male equivalent of yuri, lesbian relationship.

Murasakii Shikinbu, 2015
Again, this is gay content. But it's all gay content. So if you identify as a female or a male that does not dictate if you should watch or read Yaoi. If you are straight or not in sexual orientation, you read or watch at your own discretion. Although, it is true that there is a large following of females fans, it's not a fully female audience.
BoysLove
This in graphics is "kosher". Following a discovery of sexuality between two men. Focusing on emotional aspects within the characters instead of straight sex.
Boys' love (BL) is the common term used by the publishing industry to categorize works focusing on male/male relationships marketed at women. Historically these works were referred to as June, but most commercial works are now called BL. It is used as an umbrella term for:

-both commercial and amateur works
-works with no sex
-works with sex
-doujinshi about adolescents with little or no sex
-works in all types of media – manga, anime, novels, games, and drama CDs
-characters of all ages (not limited to 'boys')
-related terms such as yaoi, shounen ai, tanbi, June, and original June

While early fans of BL were probably fans of doujinshi, most Japanese fans on the net these days appear to be fans of commercial BL work – there are over a hundred such works published every month, more than two-thirds of them novels and the rest manga. BL novels are immensely popular – the number of novels published each month outnumbers pmanga tankoubon by about 2 to 1.

Bunneh, 2004
I actually agree with the this definition.
Commonly just BL is the replacement for Shounenai. Americans seem to have difficulty telling the difference, so here it is.

SA: The men are always effeminate both in appearence & personality, gay men didn't like it much, & unhappy endings were common. Contrary to perhaps even my own previous postings, this art is not COMPLETELY dead, some shounenai slips through the press. If it's new & fots this description, it's still shounenai.

BL: These days the men are more masculine both in looks & tude, gay men like it too, it's usually less dramatic, more sexual, & tends to end happily. Shounenai: Ibu no Musukotachi, Kaze to Ki no Uta, & anything else from the 70s & early 80s.

Allaiyah, 2004
Now, this is rather outdated in terms. Shounenai is not widely used anymore since it is based around a popular misinterpretation of older men and younger men in relationships as well as stylistically effeminate looking characters. But who doesn't want something pretty to look at.
When it comes to Boys Love and Yaoi, some people like to put them as one and the same, but that just simply isn't true. I like to say Boys Love is not Yaoi but Yaoi can be Boys Love. See, when it comes to these two genres, there's something I like to think of: Boys Love focuses on emotional relationships between men with sex sequences either entirely omitted or only lightly touched on, meanwhile Yaoi is more invested in the sexual relations between men than they are the plot. That is not to say that Yaoi is devoid of emotional relationships, but rather that they are just simply more spicy than your typical BL, though both genres can explore incredibly intense emotional and sexual themes. It's simply what kind of tea do you want today: something lukewarm? Or something steaming hot?

Luna's 2 cents
All Yaoi is Boyslove but not all Boyslove is Yaoi.
So that's it folks. If you like what you read you can check out Luna's post on the Complexity of Yaoi and more to come on the break down of Top 5 favorite Yaoi and BoysLove!
(We'll also thank Luna on this one because she wouldn't let me write this post without her input haha.)
AishiteLOVEru~
Star