Sunshine. Cute anime girls. Beautiful blue skies and magic. I was like, Wandering Witch sounded like such a lovely anime. Cute girl wants to be a witch. Becomes a witch. Then goes on lovely adventures and writes them down in her journal. I was so psyched for this. It was going to be a nice, pleasant, probably cup of tea anime…but now I feel like I've followed the rabbit down the hole. Let's talk about my first impressions of Wandering Witch today.
So…I will admit that going into Wandering Witch, I expected it to be pretty cute and that was it. I had been kind of putting off watching it because I didn't expect it to have like a super solid or interesting plot, but kind of just be something nice to watch. And I was right! The first episode was super pleasant, and it was very much exactly what I'd expect from the show. Meaning, it starts at the beginning of why our girl is going on a journey. And you know? It's just cause she liked reading a book based on a wandering witch's journey. I appreciate it. I like it. It's a simple premise. What I didn't expect was for the entire first episode to tell Elaina's backstory on how she became a witch. I expected it would either a) recap how she became a witch, or b) be the first of like two or three episodes that tell how she became a witch in great detail. But I guess it was good it took an episode to tell it–I just wouldn't have guessed it. I was a little shocked by the end of the episode Elaina had become an official witch. But I think that was due to the montage–or rather the quick passage of time where we didn't see her training. But again, I guess that wasn't the important part (weirdly enough).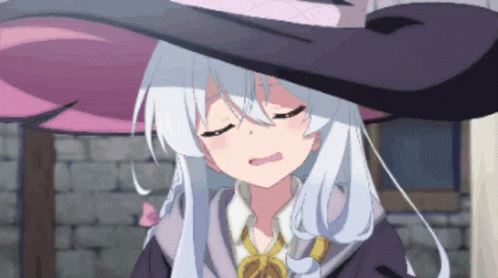 Watching the first episode, I feel like we were more supposed to get used to who Elaina was–we got to see her be determined, be humbled, irritated–we really got to know her while watching her train. I will admit that the MOST shocking thing out of Wandering Witch is that Elaina was NOT the character I expected her to be. She's like…super nice but also like lowkey a bit of a beech. But like in the best way. She's sassy, very confident in her abilities, but also very thoughtful and determined and like…a good character. Like I really like Elaina, and I think she will be fun to follow in the show.
The first few episode were pretty fine. I wouldn't say they were outstanding, but they were good. The pacing of the show is really slow at first and there's not a lot of action. The characters and stories are pleasant to watch, but every episode contains like–multiple tiny stories that doesn't give us a lot of time to digest. Or really get the point of the story being told. I'm not terribly surprised since this is legit called "Wandering Witch" and was seen as an anthology of stories. Elaina doesn't always play a huge part in the stories and is very much a bystander…but like…does anyone else ever get the feel there's something dark going on? Because despite how nonchalant and pointless the stories are–despite how seemingly lighthearted they are–they really AREN'T. Two that stand out in particular from the beginning are 1) the love story about the boy capturing other people's happiness for his love, and 2) the brother guard and the flower field. Both of them had EXTREMELY dark turns at the end–the kind that made you be like "um. Excuse you?! More needed!" Those were definitely signs…we weren't in Kansas anymore. Episodes continued to get darker twists…and then it's like hm. This is not the anime I thought it was. AND I DIG IT.
I'm like on episode six…and while I still feel like it's in that anthology format and yet to have like a thorough plot, I'm enjoying every week! I can't wait to see if it does eventually develop a plot, and if not I'm having a good time anyway as it is. The animation is also pretty nice–very pretty. There are some really amazing moments and scenes in the show. The soundtrack is also pretty alright. Overall, Wandering Witch is a solid show–I don't think it's going to be anime of the season, but it's certainly one of the stand out shows this season.
Stay weebtastic
xoxo
Luna