It's another wonderful Niji Night, and I'm here to talk about LGBT+ Webtoons! Why? Because as you probably already know, I am obsessed with webtoons. And there are SO many good ones! But today I'm just going to focus on my top 5 recommendations of LGBT+ webtoons to read. So let's start counting em down!
5) The Four of Them by Mai Hirschfeld_
Admittedly, I've only picked this webtoon up in the past week, and while I haven't caught up on it yet, what I have read so far is amazing. Keep in mind that the MC isn't actually a part of the LGBT+ community, but it is instead his sister who ends up dating that he'd been crushing on (his best friend is also gay). I feel like this comic does a really good job with balancing out our MC who is trying to get over the girl his sister ends up with, while also showing the nuances of what that can mean for the girl. She feels alone, ostracized–she can't come out to anyone because she's afraid. She has to hide her relationship even though she isn't ashamed. And she has kind of lost a friend in the MC who is avoiding her to get over her. In season two, a subplot that focuses on the MC's best friend starts questioning his sexuality (or rather others do), which ends up a very confusing and frustrating process, but the comic handles it with nuance and thoughtfulness. Overall, I'm a big fan of this webtoon so far, and I would def recommend it.
4) LGBT Stories by Changbim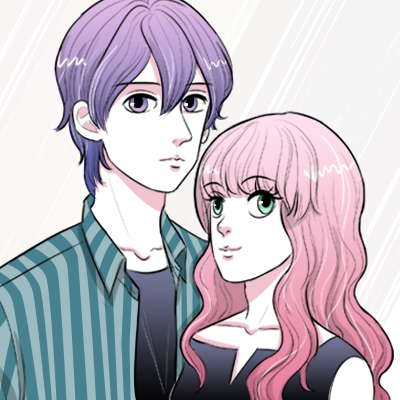 The title of this webtoon feels just a little too on the nose for this post…but it's actually really good. I would call this an index or collection of stories gathered into a webtoon. I feel like it might be a translation since the sentences don't always make sense or sound right, but it's still super good. Much like the title suggests, the stories within all revolve around LGBT people. The first story, in particular, I was a huge fan of. It started with a girl who didn't like LGBT+ people, but who met a guy who was actually a girl who describes herself as a self proclaimed "tomboy". The MC girl had fallen in love at first sight but quickly took that back upon learning the "boy" was a girl. However, the two became friends and over time, MC came to realize that she had fallen in love with the other girl. It was a cute story, had some really serious moments, but ended in a nice manner. The second season begins focusing on a high schooler that the main couple began living with, who is also gay. Overall, I find this story very–I would say–realistic. Maybe? I don't know. I guess what I mean is that the angle it takes things is very digestible and easy to relate to. It's a good read for seeing what things LGBT+ people could go through based on who they choose to love, and both the injustices and triumphs they face.
3) #muted by kandismon
Guilty pleasure. That is what I can say about #muted. This story focuses on a BL couple–one of which who is completely mute. Despite that, the two meet and form a very strong bond together. A lot of this is straight up fluff and adorableness. There is some drama as they figure out their relationship, and also when one of their families shows to be intolerant of homosexuality, but their love for each other keeps the other afloat. More importantly, we learn at one point that the mute boy had some deep trauma that has caused him to be silent, though at this point in the story we don't know what yet. It's also clear that the mute boy has had relationships with girls before, so is perhaps bisexual or demisexual, though it doesn't quite matter since he has such strong feelings for his boyfriend. #muted feels like it's a little less interested in LGBT+ issues so much as it is interested with telling a good story with a male x male couple. And I am living for it. It's so good. I love it so much. I couldn't recommend it enough.
2) Sunflower by EtoileKonijn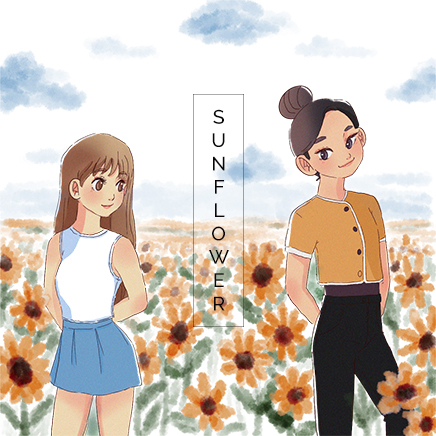 To compliment my guilt pleasure boy x boy webtoon is Sunflower–aka, my guilty pleasure girl x girl webtoon. I swear to goddess. This is even more fluff that #muted and I'm 100% okay with that. In this webtoon, the two girls meet and there is definitely chemistry between them. However, our MC is unsure on whether she wants to be friends or possibly something more with the other girl (who is gorgeous and funny and nice and amazing btw). The two of them begin to hang out and talk, and the more you read the more adorable it gets. This webtoon is filled with lowkey flirting, great chemistry between the two girls, and just kind of like nice and relaxing chapters that feel fluffy and comforting. There's no real drama, which I really appreciate because when I want to read something heartwarming, I go immediately to Sunflower. It's essentially watching a love story play out, kind of knowing that the two people are meant to be, and just enjoying watching them be together. I don't know. That probably sounds sappy, but I LOVE Sunflower.
1)That Awkard Magic by SomeBunny
At my number one spot is an LGBT story — with MAGIC. So, this webtoon can feel a little juvenile at times…but I think that's good because it means it's accessible to many and younger audiences. This story revolves around two boys who begin fake dating because one of them is a witch and accidentally gives part of his magic to the other boy (who admittedly was trying to avoid a girl who was obsessed with him). The new fake couple is the odd pairing of a nerd, and one of the most popular boys in school. This of course, leads to an uproar in the school, though while you'd think it'd be negatively–it's quite the opposite as the school is extremely supportive of them. The bulk of this story's romantic plot line has to do with the popular boy realizing that he actually legitimately loves his "fake" boyfriend, which is confusing for him because he had never really liked anyone before, even if he'd dated girls. A lot of things happen between the two boys, and it gets all sorts of complicated. But what I really like about this is how it's willing to delve into the popular boy's feelings, confused as they are. He himself ends up getting a helpful nudge from–well, from his love rival (yeah you'll have to read it to learn more about that), that directs him to resources that helps him learn that there's more than just two sexualities. Which is news to him and also a good learning curve for helping him sort out himself. I feel like in that manner, That Awkard Magic, can be occasionally educational and even empowering to those who are questioning things for themselves. Which is also why I'm happy that it seems like it's appealing to both younger and older audiences. It has a lot of potential.
Overall, most of the LGBT+ webtoons I enjoy are both about representing the LGBT+ community, while also making stories of LGBT+ understandable to those who may not be a part of that community. It creates access to information that is not widely taught in schools or part of a common curriculum. It creates greater understanding for everyone, and hopefully, brings more acceptance. But more importantly, a lot of these webtoons create beautifully real-feeling stories that people can empathize with and characters we can root for. Anyway, these have been my top 5 LGBT+ webtoons! Do you all have any you recommend? Let me know! And don't forget to check back on the blog tomorrow for the last Niji Night!
This is a safe space
xoxo
Luna