Welcome back for our last Niji Nights! Tonight is a collab post between the both of us. Star and I chose some of our fave characters/couples from non yaoi, yuri, and hentai anime/manga! Sorry if we have multiple from one show, but we have a lot of favorites and sometimes a show is just standout with their LGBTQIA+ cast! Anyway, here we go–here are ten of our favorite LGBTQIA+ characters in anime/manga!
Crimvael from Ishuzoku Reviewers
Being that this is angel is traditional, meaning intersex! Because this angel is a little bit of both with a pretty androgynous look this heavenly being often found pleasure in places the others couldn't. Especially in situations that were the most unconventional. As much as the angel didn't want to enjoy themself, being holy and all, they did. The angel was also the most feminine out of the reviewers which helped give a bigger variety in the reviews.
Sanae Ebato (Ecchan) from Kuzu no Honkai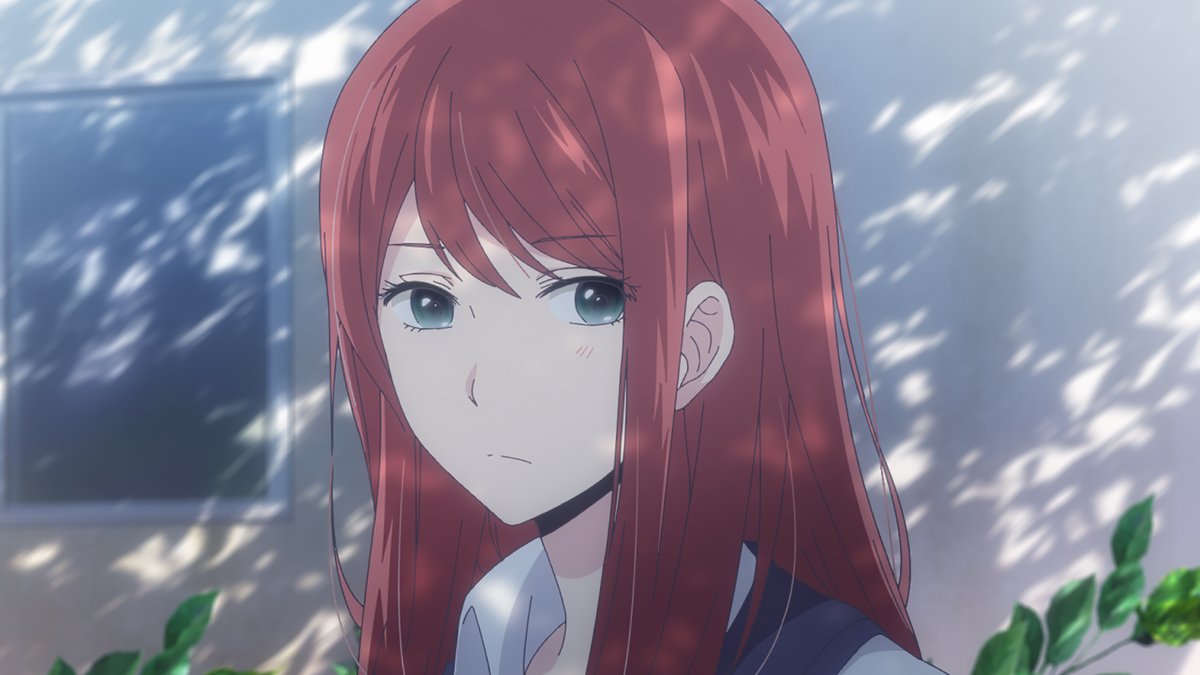 Honestly, Ecchan was the best supporting character within the cast. Ecchan's love for Hanabi was so strong that she found herself becoming the perfect man for Hanabi, while still being a strong female in this toxic plot. Although Ecchan was trying to prove to Hanabi that she wouldn't break her heart and treat her with love and affection, she found herself changing her appearance to become the masculine partner Hanabi craved.
Tomoyo from Cardcaptor Sakura
Tomoyo's love for her best friend was platonic but it often showed parts that were emotional. Tomoyo showed her supportive role by taking care of her best friend in the ways that Shaoran couldn't and wasn't always there for. Emotionally she was more giving and of course appreciated Sakura's physicality. So you can say that she loved Sakura inside and out and for much longer and harder than Shaoran. Given that she showed a different kind of love in this emotional and supportive role it is important to showcase her love because she gave the most.
Itsuki from Yu Yu Hakusho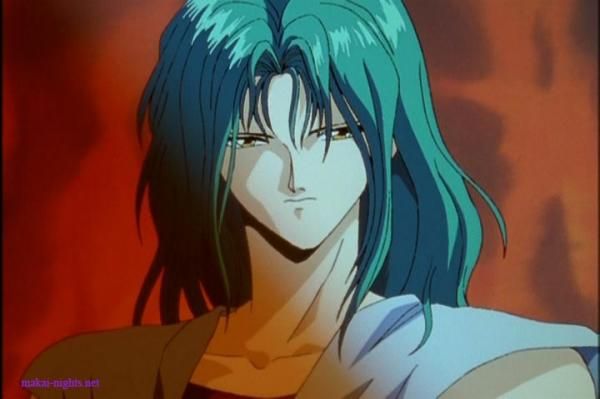 Itsuki was revolutionary. Being that Yu Yu Hakusho was such a shonen run show having a pansexual character like Itsuki surprised me. No one loved Sensui like Itsuki. At first it was as if the show's creators were sensoring his feelings by saying Itsuki loved one of the 8 personalities within him, a woman. But we were then corrected that Itsuki loved every bit of Sensui, all 8 personalities and his physicality. He didn't care what gender or sex Sensui was showing but he'd follow Sensui anywhere not matter what he looked like. Then when he spoke about Sensui he talked as if he was in love.
Akito from Fruits Basket
For all of you weebs that just jumped on the furuba train you might want to stop reading here haha. Akito is one of the most confusing characters out there. Mainly because the anime focuses on straight coupling even though there are gay/bi/pansexual characters within the anime. What made Akito so special is their androgyny. Akito demanded respect as head of the Sohma family household so it's easy to see Akito as a male but that is WRONG. While Akito appears to be much more masculine than a lot of the other characters Akito is in fact a non-binary cis-female.
Ymir from Attack on Titan
I know we've already talked a little about Attack on Titan in a different post. But honestly, Ymir deserves to be on this list. Her love for Krista is extremely strong, and their bond is something that was super clear even before Ymir admitted her love. Ymir sees Krista for who she is—possibly the only one who had for a good portion of the story. She knew how strong she was. How resilient despite all. Ymir felt so strongly for her that near the end of her life, her only desire was to protect Krista and see her again. While Krista's feelings for Ymir were never verbally spoken, there was certainly an undeniable chemistry between the two, and even years later in the manga, Krista (now Historia), still thinks of her.
Yukito & Touya from Cardcaptor Sakura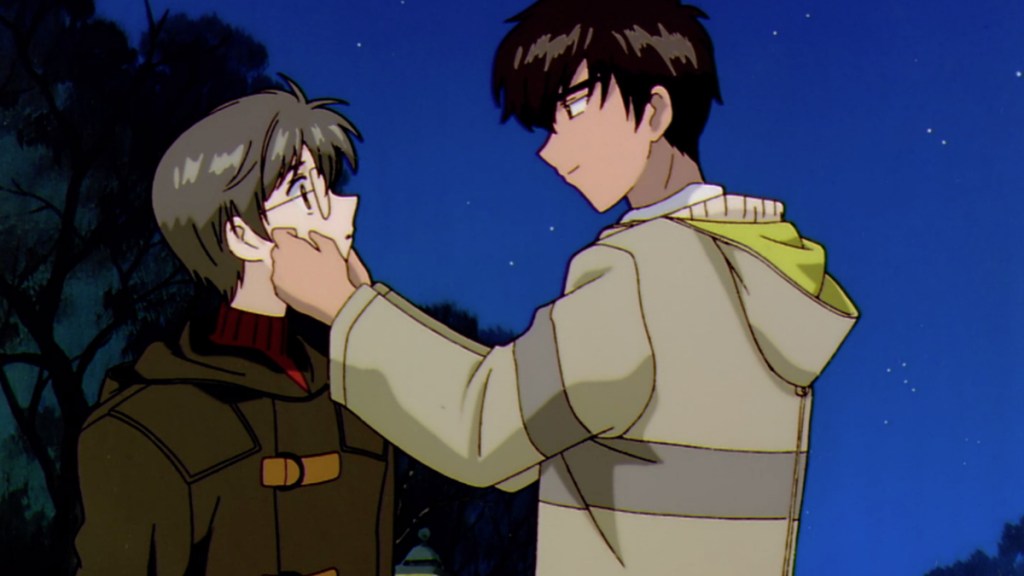 I group these two together, because I feel like I can't group them apart. This was one of the OG male x male couples of my childhood. The thing about them was that it was always clear they loved each other, even before Yukito told that to Sakura when he turned her down. And their relationship was so pure. They were willing to sacrifice for each other's happiness and well-being. Not only that, but because they are CLAMP characters, they show up in other works, and in every iteration they are together. They are, truly, soulmates.
Enta from Sarazanmai
Enta was, not even going to lie, a bit of a troublesome characters at times, but hew as loveable all the same. He struggled with having romantic feelings for his best friend and then having to watch his friend struggle with his own personal issues and also start to become closer with someone else, often creating conflict between their friendship. This was very hard for him, but Enta always did the things he did only because he really liked Kazuki, and he wanted them to be friends forever (even if Kazuki couldn't return his feelings). He also never continued to push his feelings onto Kazuki when they didn't work out, not to say that things were blue skies for the friends after that. But still. Despite things not working out romantically for Enta, he was able to keep Kazuki in his life, and I hope one day he finds someone new who will love him back.
Reo & Mabu from Sarazanmai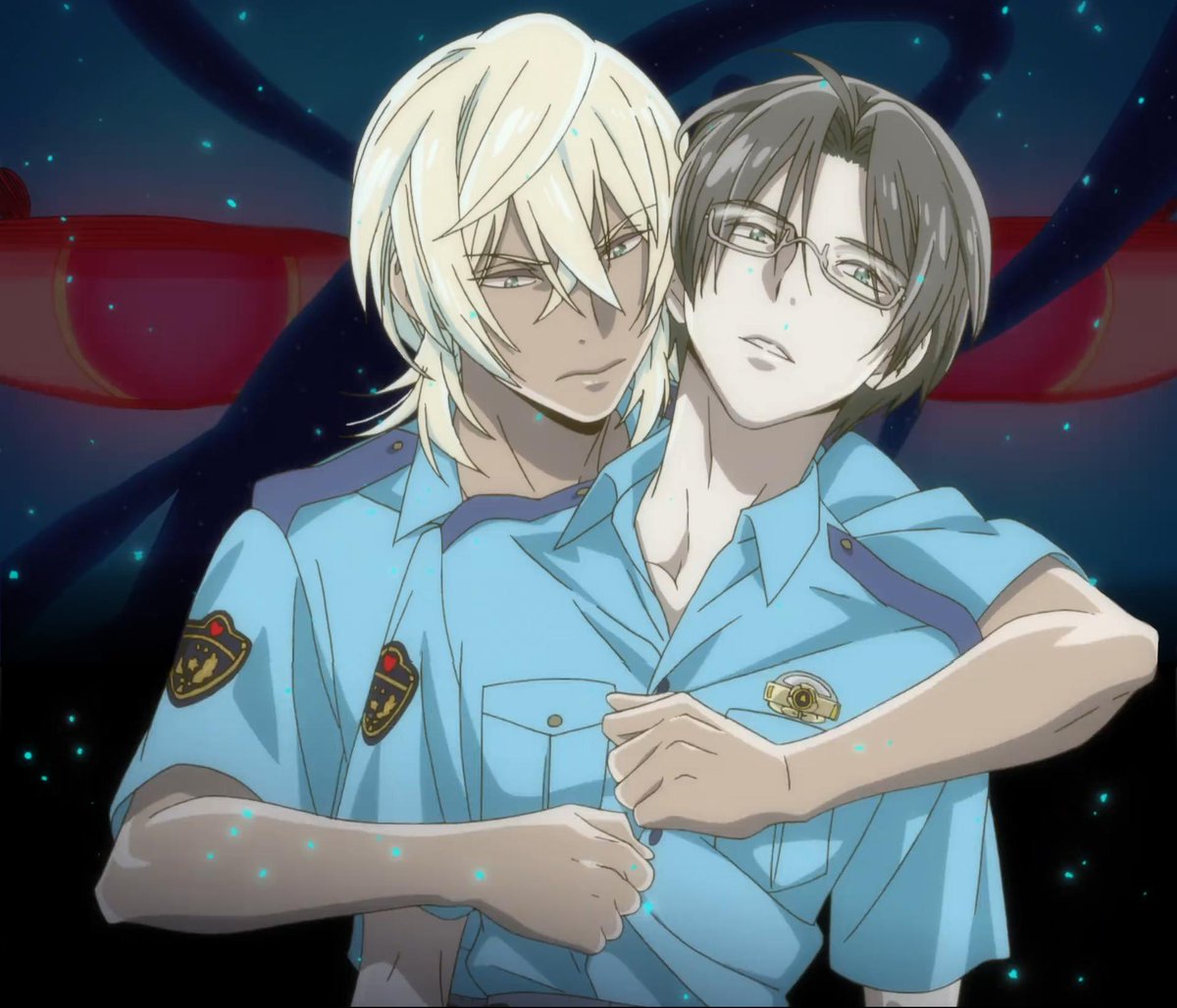 Reo and Mabu—are great characters. Truly they really are. They have just a heartbreaking love story in Sarazanmai, but they get a happy ending. A lot of their relationship is actually highlighted in a side manga that really just captures domestic life for them and gives a lot of backstory to how much they loved each other. In the show itself, their relationship is fractured only because of their desire to connect with each other, but because of external factors stopping them from doing so. Despite this, they persevere, each hoping to get back to their happy days and to be able to openly express their love for each other once again. Their relationship is truly profound in certain ways.
Nisaka from Love & Lies
Nisaka is perhaps my (Luna's) favorite character on this list. In the world of Love & Lies, people get paired up with their future husband/wife, but the current system doesn't account for members of the LGBT+ community. Nisaka, the best friend of the MC, happens to be a part of that community. He has feelings for his best friend but is always there to cheer him on with his female love interests despite that. Throughout the manga, Nisaka is seen constantly going to speak to the ministry that pairs people up, assumingly going there to discuss how he can't agree to his hetero pairing. The more you learn of his backstory, the more you see how deeply wrong the society is for pairing people up without their consent, even if the people agree or end up falling in love. By removing sexual preference, they end up ignoring and stifling those who are part of the LGBTQIA+ community. Nisaka realizes this, but he has the opportunity to take part in a match-up for same-sex people. Which is great for him. He definitely is a good-hearted character who ended up with the short end of the stick due to sexuality, but despite all that he's doing his best. I really love him as a character. He's one of the best parts of this manga.
Thank you so much for joining us for our pride celebration, Niji Nights! But remember, just because Niji Nights is over doesn't mean pride month is over and doesn't mean that we should stop celebrating the LGBTQIA+ community, promoting healthy sex, and creating a safer and more accepting society. While the anime/manga/cosplay community feels pretty open and accepting compared to other communities, there is still a long way to go for all of us. We stan happiness! So no matter who you are or who you love–stay proud, stay weeby, and remember–this is always a safe space!
Til next time!
AishteLOVEru~
Luna & Star