The beginning of this season looked like an ocean of possibilities…oh how quickly that ocean dried up.
Welcome back to Otaku Thursday! Though pickings this season were slim, some truly good anime did air. While some of them ended up disappointing me in the last few episodes and totally ruining their chance on this list (not to say any names Sing Yesterday for Me) within their final episodes, a select few held out to have some great seasons that kept me afloat during these lock down. Without further ado, here are my top 5 anime of Spring 2020, and the number 1 anime of Spring 2020 that will have a for-sure spot in the 2020 anime awards.
5) My Next Life as a Villainess! All routes lead to doom!
This is the kind of anime I usually really don't like…but even I admit that this was some legit stuff. I thought from the premise–girl gets reincarnated into an otome game–that this was going to be some pretty typical isekai anime. And yes. It kind of was. But the twist is that this girl got reincarnated as the villain of the game and is mostly concerned with making sure she doesn't die (like she does in every route of the story). What I found unique from the get-go, was beginning this story when she's a child in her reincarnated life. This set the ground works for her to begin changing the game early on. Which–y'know–the butterfly effect–especially when you step in and steal the pivotal moment from the love interest…Either way, this was way more entertaining than I thought it'd be so it's certainly worth your time.
4) Kaguya-sama: Love is War Season 2
Honestly, I try to avoid 2nd seasons when highlighting anime but this season had amazing continuations. Kaguya-sama, was one of these. Somehow the second season of Love is War was even better than the first, which I often find can be hard for romcom anime. However, Kaguya went above and beyond consistently—introducing new and loveable characters, expanding the stories of other characters, consistently bringing high energy and quality humor. Good goddess this was amazing. I especially enjoyed more story on Ishigami–I do love his character so that was welcome. The riskier humor this season led to absolute gut-busting hilarity, AND the show even gave us a glimpse of shoujo-brain (real thing you guys. Real thing.). Honestly, this scored great across the boards and I honestly can't wait for the 3rd season to come out. I'm just sad Star and I can't watch this together every week anymore.
3) Fruits Basket Season 2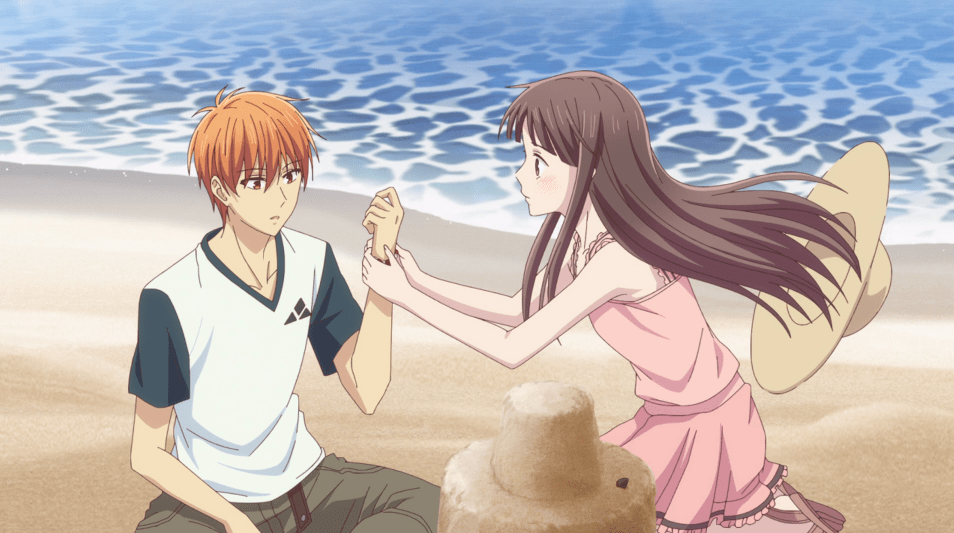 Another wonderful second season, Fruits Basket season 2 brought anime-only fans into completely new waters and delved deeper into the true drama of Fruits Basket. There have been some really beautiful episodes this season featuring Kyo, Yuki, Kagura and more. We've seen a lot more of Akito's twisted personality, bounds of character development (we love some good character development) on Yuki, and the progression of the absolutely adorable, 100% stan-worthy couple Kyo x Tohru. Though episode 12 only marks halfway, manga readers know that there is plenty more good content coming our way. We're about to tread into some even more dramatic plot lines and I am living for it. Every time I watch this reboot, I think about how grateful I am for the sincere adaption of the source material. Like honestly, this is a contender for best continuing series (as is Kaguya), and maybe even a special nomination for Anime of the Year. Who knows? All i know is that it is delightful.
2) Kakushigoto
I was so tempted to give this number one. Actually, I'm still fucking tempted. Kakushigoto was the breath of fresh air that I know I needed this stressful spring. The antics of this father and daughter consistently brought a smile to my face—even when that smile was sometimes through tears. This show was so much more than I expected, and though not terribly outstanding in it's genre itself, it was amazing. From OST, to animation, to story and characters—it was awesome. But the ending did feel a little rushed, and I would've loved for this to get just a few more episodes to really soar. However, the way that the series often cut between the lighthearted past and glimpses of a darker future always had that smidge of anxiety waiting for you–wondering what happened to Goto. And though the ending felt a little rushed, it still managed to deliver a truly heartfelt episode that made me laugh and cry. Being a slice-of-life, I feel like this is a bit of a 'cup-of-tea' show, but I think it's one everyone should give a chance. It could be your cup of tea. So basically, if you haven't watched it, please do. It's one-hundred percent a contender for either best slice-of-life or best comedy.
1)Tower of God
BAM! With all the hype behind this show did you expect anything less? So. Just as Kakushigoto almost got first, ToG almost didn't win best of season. The first portion of this show I found to be often confusing and a little—well, I wasn't sure what to think of it. However, the latter half of the season solidified my love of this show. Many of the initial issues I had with the shows pacing, fights, and animation got much better over time and by the time episode 12 hit, we had a full-fledged shounen, complete with action sequences on our hands. The story, admittedly, still has it's issues, but the season has made it pretty apparent that this season is all set up. Which kind of explains the pacing issues I'd had with it moving between going too slow and going too fast (it was trying to cover a lot of set-up in only 13 episodes). The last episodes reveal of *spoiler alert* Rachel having manipulated many of the most poignant moments and actually hating/feeling jealous of Baam…really did not come as a surprise though. Like I said it in my first review, and I'm pretty sure we all agreed–I don't trust that bitch–and I was right. What I wasn't expected was that she was gonna be a petty bitch about her motivations. Does it make her an interesting villain? Not really…but also we love a petty bitch so we'll see where her actions go. Other than Rachel, we have a lot of seeds planted for future seasons, and we have Bam starting from the bottom, with everyone thinking he's dead. I must say this whole season I haven't been Baam's biggest fan, but I sense heaps of character development coming while he works on his skills to catch up with the others. So overall, this season justified itself, brought out that A+ animation sequences, beautiful scenes, banging music, and plenty of interest for that second season. It's definitely one you shouldn't skip.
That's my top 5 anime of Spring 2020! It's been a kind of slow season with all the delays but there was still entertainment to be had. And in case you are wondering about the delayed anime–they will be ranked in whichever season they continue their runtime in. But for now, the winner of the crown's game is none other than Tower of God, who will proudly be joining ID: Invaded as a nomination for best anime of the year. So give our boy Baam some love, chocolate bars, a blue haired boyfriend, Dwayne -The Rak- Johnson, and a slap on the back (not a push off the ledge), because this boy, despite my many doubts, proved to have the best show of Spring 2020.
Stay weebtastic
xoxo
Luna