Hey everybody, it's Luna here and you know what time of year that is? Summer time. And while I don't advise that you be out and about in public spaces, I do advise you listen to some of the amazing anime openings from this season. Here I'm going to tell you our top 5 anime openings for Summer 2020! Let's count down!
5) No Guns Life "Chaos Drifters" by Hiroyuki Sawano ft. Jean-Ken Johnny
According to Star, this opening fits the show a million times better than the first opening. While I haven't seen this anime in full, I will say that when I watched the first opening, the song was good but I had no desire to watch the anime. This opening? It piques my interest. I feel like it gives off a more cohesive vibe between the song and the artwork.
4) Re:Zero "Realize" by Konomi Suzuki
Why. Is. This. Song. So. Catchy? Gosh, like I know the hype around Re:Zero is HUGE but this opening just liked upped the hype. Konomi Suzuki's voice is absolutely gorgeous and the animation goes along so well. I had this pop into my head while working once and I like couldn't remember where it was from and cursed it for being super catchy. If I had one thing I didn't like about this–it'd be the credits appearing in the middle of the screen. I kinda wish they were a little more out of the way.
3) Sword Art Online Alicization – War of the Underworld part 2 – "Anima" by ReoNA
Admittedly this is not the strongest SAO opening song. However, it is really good. I love ReoNA personally, and the songs she's produced for Alicization have been some of my favorites. This song is just as good, though perhaps not the choice I'd expect of SAO. Still, the song is popping and the animation is very expressive in that it tells a story. I mentioned in my SAO first impressions that the use of black and white is very welcome in this opening. I still stand by that.
2) God of High School "Contradiction" by KSUKE ft. Tyler Carter
I'm going to start this off by saying this is 100% the most unique opening song of the season, if not the whole year so far. The dub step was entirely unexpected but not unwelcome. The animation was edgy and colorful and definitely eye catching. Again, this anime is based off a webtoon and just like Tower of God–they certainly took some risks on choice of song that ABSOLUTELY paid off. When scoring this it was like .5 away from the number one slot because it was just that good. I'm also super curious of this anime now.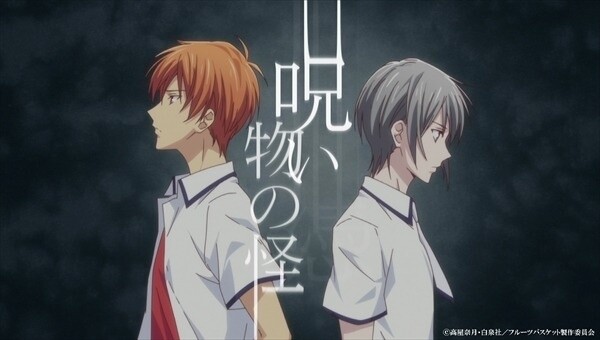 1) Fruits Basket season 2 "Home" by Toki Asako
Well. It finally did it. Fruits Basket has always made it to the top 5 opening and endings list because it is consistently coming at us with great sequences. This time, we couldn't help but give it number one. Now. I understand others might disagree as the song isn't nearly as catchy as other openings–but damn the animation that goes with it is just PERFECT. Remember that anime openings are half music and half actual animation, and Furuba brings us these gorgeous, almost movie-esque scenes in the opening. While little movement happens in them itself, the movements are so calculated. From a character looking up or looking down, to eyes being closed or open and even turning to and from the camera–it was put together with care. It's a kind of care though that is so precise. It's very artistic and such a good piece to represent a more moody part of the show where things start getting more dramatic. And we love Furuba you guys. Like that's known, but I really believe this time it's opening was just outstanding…though notably it only won by a .5 margin.
So there you have it–those are the top 5 anime openings of Summer 2020, as scored by myself, Star, and my brother who is able to tell me which ones are musically shit and which ones are legit. What are your favorite openings of this season? (or of the year?) Let me know!
Stay weebtastic!
xoxo
Luna