Hello and welcome back to Day 5 of Niji Nights! I know Star came at you yesterday with some definitions of Girls Love and Yuri, but for the next two days we're going to be dialing it back to look at some Boys Love. See, we thought it'd be good to make some lists of some good Boys Love to act as a gateway into the genre, so here we go. On day 5. Listing out five Boys Love anime that you should watch even if you don't usually watch Boys Love. Without further ado, let's count 'em down!
---
So I really enjoy Umibe no Etranger–both in manga and movie form. It's very pretty for an anime and also a very chill story. It isn't chalk full of drama and takes on a much milder approach to Boys Love. In some ways, some people might find themselves bored with this story but it feels like a very necessary coming-of-age story that also embraces coming into who you are and self acceptance. It begins with the characters, Shun and Mio meeting in high school, Mio moving away, and then returning 3 years later to confess his love. From there on out, Shun takes a good portion of the story truly coming to believe Mio–as even though Shun has been crushing for years, he's unsure of Mio's love as Mio had never loved a guy before. It's a super good story. Super chill. I would recommend it for a good time.
This is one of those stories I recommend to everyone pretty much immediately. Doukyuusei focuses on high schoolers Sajou and Kusakabe who meet in summer school (I think it was summer school–I haven't read/watched this in a hot second). The two are pretty different when they meet–one would almost say polar opposites, but they get along somehow. They get to know each other, grow together, and inevitably fall in love with one another. The story is very well paced and the characters generally likeable. I think their story of falling for each other is very realistic, very raw and something I think a lot of people can be like–yes I have felt this way before too. So, I really enjoy it. Also the writing is gorgeous.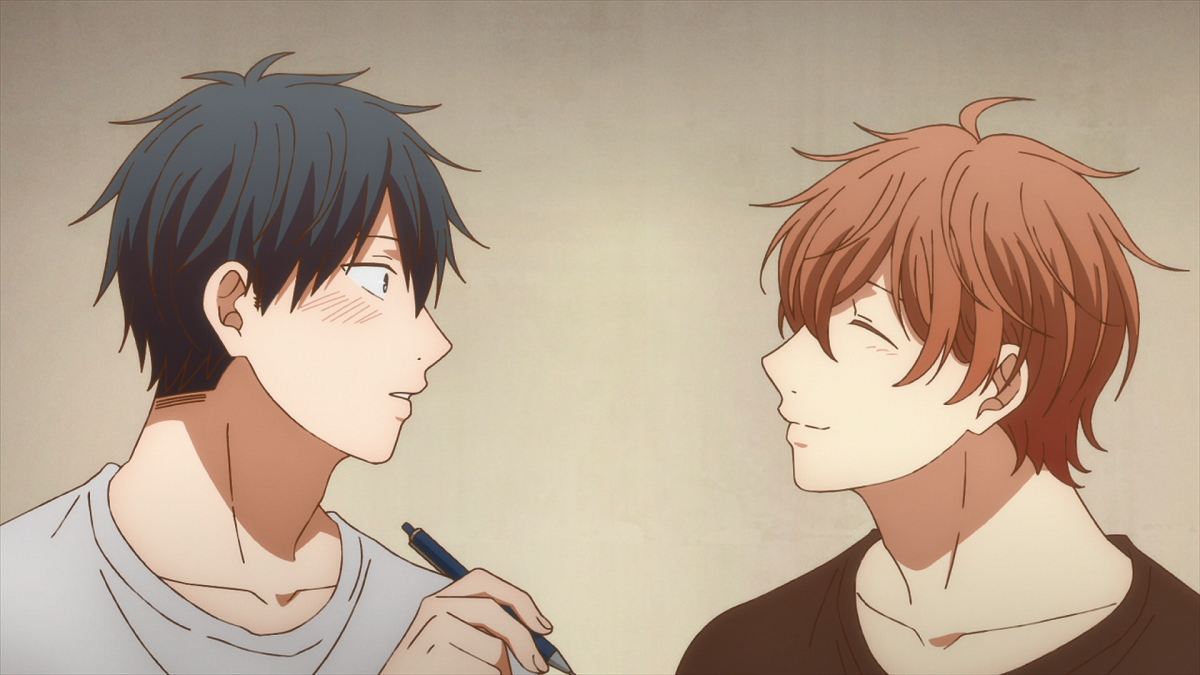 We talk too much about Given on this blog so I'm going to keep it short. Honestly, I couldn't bear to leave this off the list though. Given is a very nuanced Boys Love story that really feels like it can be for anyone. It's extremely invested in the emotional relationships of its characters–Mafuyu and Uenoyama, Akihiko and Haruki, Yuki–Ugetsu. The romance is complicated at times and sometimes easy, but it all feels very genuine. This show is a great Boys Love that really doesn't make a big deal out of the fact that it's BL. Plus it has an excellent scene that validates ANYONE that they shouldn't feel bad for loving who they love. Nothing is normal. And you should never feel like you shouldn't love someone because of gender or sexual norms. Also, the music and plot of Given is just– *chef's kiss*
I couldn't make a post about BL without mentioning the BL that got me into BL. Banana Fish, a story I would deem a classic. I like to say that this is a weirdly good gateway into Boys Love for people who haven't watched a lot of it. The reason being that, yes Eiji and Ash are definitely into each other in a romantic way, there's not a lot of actual romance scenes. The show simply doesn't have time for it as Banana Fish is a heavily action and gang based show. There's definitely lots of Eiji x Ash content in it, but it never feels forced in your face. Just really really cute (and sometimes heartbreaking). So if you're just getting into Boys Love or want to try to get into, I'd recommend this for some good drama and action–and Given if you just want the drama.
This is an anime sci-fi version of Romeo and Juliet… Well kinda haha. It's about two boys on opposites sides of a wall that separates the rich from the poor. When the rich boy (Shion) falls from grace by harboring a bad boy (Nezumi) they find solace and understanding in each other by saving the other from certain death. (A life for a life if you will.) They then find themselves living together and building a romance that grows naturally but from a seed of belonging. The ending although brilliant and beautiful is also bittersweet and open to interpretation.
---
This has been our curated list of the five anime BL anime that Star and I think anyone should watch if they want to get into the genre (or just even give the genre a chance). Honestly, there's a lot of good BL content everywhere, and Blue Lynx is really helping bring some of it alive on screen, so I look forward to seeing more BL anime and movies release in the future.
Thanks again for sticking around for day 5 of Niji Nights! If you missed day 4 where Star broke down some GL and Yuri, you can read it here. Otherwise, look forward to some more BL content tomorrow as I contemplate the meaning of wings in BL. Until next time~
Stay weebtastic
xoxo
Luna