Happy 13th Day of Otakutober! Also known, as Halloweeb. The night in which we are all able to weeb out to horror/monster/spooky anime in all it's glory. And more importantly, we get all our sexy monster men by watching it. So I thought for our 13th day of Otakutober, we'd count down my top 5 sexiest anime monster boys. Without further ado, let's get into this special Halloweeb countdown!
5) Sebastian Michaelis
Counting down at number five, we have one hell of a butler. Sebastian is everything you want in a man. Smooth, good looking, can cook, clean, and fight. He's the smoothest guy on the block, and also a demon who will eventually devour Ciel's soul. But, y'know, even being a demon he is a sight for sore eyes. He's definitely a monstrous man to remember.
4) Yuliy
My absolut
e, beautiful little Sirius. If you've read my latest Otakutober post, you know I love Sirius the Jaegar thanks to the main character Yuliy. He is a jaegar, or as we would probably better recognize as a werewolf-like creature. While a little aloof, he's really a sweetheart that cares a lot for his brother. And I love me my family-men. ESPECIALLY ones with hair as on point as Yuliy.
3) Zero Kiryu
Throwing it back to the time of Vampire Knight, I absolutely HAD to put Zero on this list. This sexy vampire teen is the epitome of angst. His tsundere-esque attitude makes him swoonable, and even in an anime filled with ridiculously attractive vampires, he STILL manages to be the most handsome. Of course, that might be because I love a man who has white hair and his hunter's seal tattoo is a definite plus too.
2) Kuro 
So Zero is more of a traditional vampire, but our number two is a definite untraditional vampire. Kuro is a vampire who turns into a cat when he's in a weakened state.  Which kind of makes him amazing. He's adorable as a cat, but as in human form, he somehow manages to make sleepy look sexy. With his droopy eyes and uncaring personality, he'll easily steal your heart.
1)Jiro Mochizuki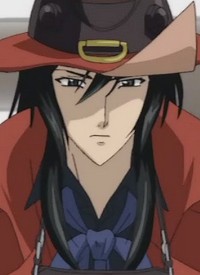 The number one. The OG. Okay, maybe not the OG but a really great vampire. Jiro is everything I'd want a vampire to be. His long, flowing black hair and blood-red attire make him stand out in the best way. He's calm, mature, and has a good heart. Jiro wields a sword which gives him some extra attractiveness, but what really draws me to Jiro is his devotion and love for his younger brother. Like I said before, I LOVE a family man. All and all, Jiro is definitely my favorite monster man on this list.
Well, those were my top 5 anime monster men (well, some were boys) in anime. What are yours? Or do you have top 5 anime monster girls? I'd love to hear about them in the comments below! Until next time, I hope you enjoyed our 13 days of Otakutober, and I hope you all have an amazing Halloweeb!
xoxo
Luna