Hey everyone, it's Star wishing you a happy 10 days of weebsmas! Being the hipster Otaku I am, I thought I should properly prepare you for some passionate opinions.
Now. get ready for some throwbacks!
---
Ah! My Goddess: Flights of Fancy-3 Ah! Christmas Eve
The Oh! My Goddess/ Ah! My Goddess series always reminds me of my childhood and family. But this episode is reminiscent of the classic story "The Gift of the Magi". Where a husband and wife sell their most prized possessions in secret to get each other a gift.
Except in this case it's just Keichi working his ass off to get Belldandy a ring to convey his feelings. Then he manages to risk his life in a ridiculous outfit and Belldandy saves him like usual. But maybe this episode meant more than just a gift but possibly a pseudo promise from Keichi to Belldandy that he will go through great lengths to prove his love even though he doesn't have to. Which really is the lesson of the story in general. That love is much stronger than any force.
---
Chrono Crusade:  Episode 12- Holy Night 
This episode is technically the calm before the storm that is Act 2 of this story. It's a time in which the characters get to relax and enjoy their time off. But being that the anime is based on Angelic and Demonic folklore it is only suitable to have a Christmas episode.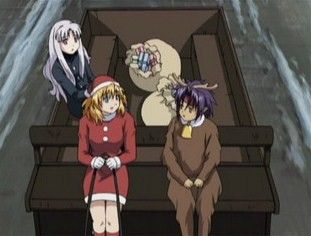 In true Christmas spirit, this episode is about giving. Azmaria gives the snowglobe she chose for Rosette and gives it to a man who promised to give the same snowglobe to his girlfriend. While Rosette and Chrono prepare to give gifts to the orphans. At the end of the episode they give Azmaria the Christmas she deserves. This episode even though it's all about Azmaria, it's also about giving to those less fortunate than themselves. It's truly an episode about the selflessness of the main cast.
---
Violet Evergarden: Episode 8- Begins the great war
Although this episode isn't exactly a Christmas episode I like to consider it in the line up only because in this world Christmas may not have existed. But being that it's winter and Violet receives the one material object she holds dear, I'm allowing it.
In this episode, we begin to see into Violet's past and we also reveal how she got the brooch, why it's so important to her, and who gave it to her. But the best parts of this anime is the moments that aren't said. At this moment, the Major wants to give her something that will allow her to feel like everyone else, not just some war machine. But the love behind getting her the gift doesn't compare to the reason why Violet picks the brooch. In an act that seems so mundane, the Major wasn't expecting Violet to choose a gift that would forever remind her of him. In a way, this gift to her was also her gift to him. (This episode should be called, "In remembrance" in my opinion.)
---
Sailor Moon and the Black Dream Hole
Alright, so this isn't an episode, it's an OVA. There isn't much talk about christmas but again it takes place in the winter, they make cookies, the villains kind of look like sugar plum fairies and there's a part where they start to dream while they are awake and envision actual houses as Gingerbread houses.
But this OVA although having subtle hints of the nutcracker it also speaks volumes in terms of  love and honesty. The beginning starts with cookie baking and Mini Moon makes the best tasting cookies while Usagi made the best looking cookies. Usagi was jealous of all the attention and talent she has and that night Mini Moon was taken to be drained of her power. Usagi, the sailors and Tuxedo Mask go on a mission to save Mini Moon. At the end, everyone is down and Usagi uses the cookies Mini Moon made to fuel her with power. Because her cookies were made from the heart. The lesson of the movie was that love isn't a competition, and that people are stronger together than apart.
---
DN Angel: Episode 25- Black Wings
Saved this one for last. In a time in the series this was suppose be a "winter break" for the characters. Daisuke and his family of misfits begin the episode by decorating a Christmas tree. A romance with Rika and Daisuke had just begun and Daisuke decided not to bother her, being that it was a time for spending it with family.
Daisuke chose wrong. Other than the dressing of the tree, this episode didn't have an obvious Christmas theme. But I do think there is something to be said about sacarfices and family. A side note in this episode is the illusive, Kosuke Niwa aka Daisuke's father. Which in a previous battle, he magically took all the injuries and pain from Dark's previous battle within his body. So in a way the theme of this episode is about family and making way for the next generation.
And that's it everyone! For those of you who haven't watched these anime, I highly recommend them. And for those of you that do, I hope it was a fun trip down memory lane!