Hello all! It's Luna again and happy 13 Days of Otakutober! Can you believe it's already been five days of otaku-related goodness? If you've missed any, check out our twitter and instagram to catch up!
Meanwhile today, I decided to go through a few of my favorite anime to watch during the month of October, and most specifically, during Halloween. Personally I love gothic, pseudo horror, creepy-esque anime at any time of year, but during fall I really want to watch these types more than anything else. So here's a few suggestions for those of you wanting to watch something in a similar vain for Halloween.
5. D. Gray-Man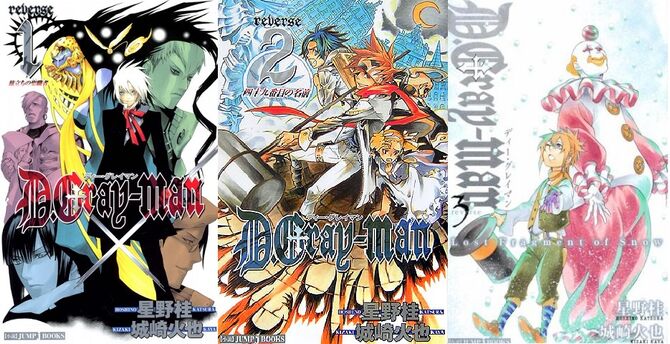 Funny how this list actually starts with something that isn't horror at all. D. Gray-man lies instead in a land that I'd call 'dark fantasy'. Everything about it is delightfully dark from art style to story. It's got a spook factor without being creepy or filled with horror. That's why it's a favorite to watch–especially favorite arcs such as the introduction to Krory (resident vampire), the doll arc (a singing and broken doll in an abandoned town), and of course–Noah's arc (this one is just all around great). Though never technically "finished", I wouldn't get too hooked on this (like I am. Oh my heart). This anime also gets bonus points in the Halloween theme for Road Camelot whose umbrella is pretty much a jack 'o' lantern.
4. Kuroshitsuji – Book of Circus
WOW! Another Dark fantasy! Now, with this one, I truly felt the need to be specific about. I used to like Kuroshitsuji back in it's hayday. Until they ruined it in season 2 with Alois (I'm sorry even for an anime only plot line it was bad). I much preferred the manga, and even though I'm currently pretty done with it as a whole, I can't deny that I LOVE going back to watch Book of Circus. An already delightfully dark, very european gothic anime in the circus? I think yes. This has always been my favorite arc and will continue to be. It's not per say Halloween esque, but let's call it the equivalent to American Horror Story Freakshow (maybe not the best equivalent but still). I think it's a good one to watch. The circus outfits are beautiful to look at at the least.
3. Junji Ito Collection
Okay so this one I admit is both newer, and took a few episodes for me to truly love. This anime is like an anthology of Junji Ito horror stories. This is classic horror at it's most delightful (well, for me delightful–if you're usually scared by horror then it might just be frightening for you). If you're a fan of horror and never heard of Junji Ito (first off, I'd be amazed), then definitely watch this or read some of his works. He is the king of creepy-styled manga. I really like House of Marionettes personally, but they are all really good. It's the perfect anime to watch at night, snuggled tight up in a blanket.
2. Another
This is another (ha funny pun there) that is classic horror. However this I would call, equal parts mystery as much as it is horror (but not the scooby-doo kind). The mystery behind what is happening with class 3-3 is obviously a huge part of this. I've actually been wanting to read the book this was based off of for a while, but haven't been able to get a copy of it (I'm assuming it's hella creepy as a book). So until then, I'll just re-watch this anime for this month, and hope that one day I can see the color of death (JK wouldn't want that).
Ghost Stories (American Dub
Lastly, we have Ghost Stories but ONLY in the dub version. Because after watching all that horror anime, you got to detox with something. I wouldn't call the dub of this "spooky" but rather categorize it as "spoopy". In case you don't know, when they dubbed this anime, they pretty much scrapped the original script and replaced it with something fully comedic. More importantly, the kind of let the voice actors just have fun with it, so this is just a fucking delight to watch. It'll be the best comedic horror anime you'll ever watch (also pay attention to the episode with the Bunny–it's one of Star's favorite parts of this anime).
So that's all my recommendations for your Halloween-viewing needs! Does anyone else have any favorite anime's to watch for the spooky season? I'd love to hear it in the comments below!
Til next time! Luna signing off.