Hey everyone welcome to our very last day of Doki Doki Days! We're going to take a quick detour and talk about a manga that became a live action because this happens to be my favorite Chocolate situation. Plus it's BL wants not to love? Alright let's do this. I will preference this blog post with, I rarely like this trope. Cherry Magic is the ONLY exception. And it was a BONUS episode so nothing plot wise stemmed from it, which just means the plot held up on it's own.
There is two parts to this trope. Making or buying the chocolate and how they delivered the chocolate.
Making or Buying the chocolate
(This is about single people giving or receiving chocolate. It doesn't count if they are already together.) So here's what pissed me off for years. There are two main options. You buy the chocolate or you make the chocolate. Typically these dere -cough- I mean people who would go out of their way, slaving in the kitchen to make their crush the chocolate only for them to:
ONE: Not see them eat the chocolate
TWO: Not see them appreciate (or not) the chocolate
THREE: Not see that their hard earned efforts were wasted because of how much chocolate was stacked on top of theirs
The person who receives the chocolate is now either happy but confused about this sudden chocolate gift avalanche OR immediately has an anxiety attack about turning one or more people down. It's rare that the receiver has feelings for the person who leaves the chocolate.
Delivering the chocolate
How the chocolate is delivered. In most shoujo depending on the character -cough dere cough-. And the trope is often hiding confession letters on top of their shoes in the lockers and chocolates at the desk. In a work setting it is a lot harder to do being there are less places to hide the chocolate and then find the moment to hand it to them vs. leaving it on a desk. Which in this show all the girls do. (Jokes on them since he likes a MAN.)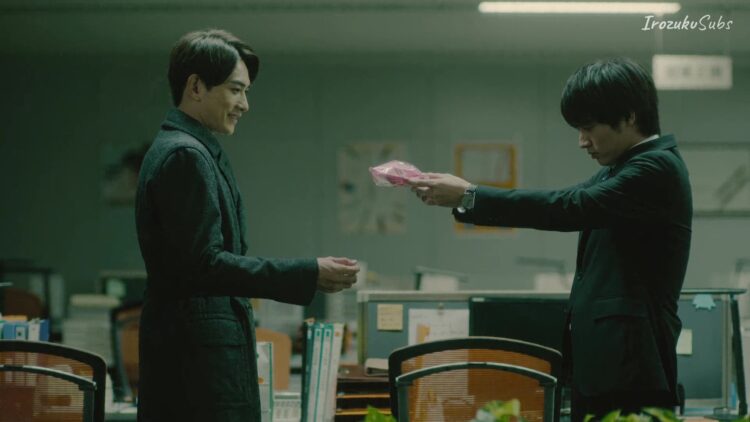 With all this being said, don't ever do this in person unless you did your homework and research. Gifting someone chocolate on this holiday can be a stressful and sometimes even upsetting for the reciever. PLUS you're hard earned cash and/or effort can be used on something better timed and better thought of. Sometimes simplicity is the answer. Who needs a day to prove your love? That should be EVERYDAY. Anyways, I'd also like to mention that valentine's day chocolate in anime is now a searchable aesthetic… What has the world come to…
AishiteLOVEru~
Star