Hi everyone! The winter anime season is beginning to wind down so it's finally time to do the one thing I was waiting to do. Nope, it's not reviewing Yakusoku Neverland. No, today I'm going to be listing my top 5 anime openings from the winter 2019 season. To be honest, this season, the openings that have landed on this list have taken me a bit by surprise, but when it comes to the openings, I gotta go with my heart (even if the anime isn't nearly as great as the opening). So without further ado, let's get into it!
5) 3D Kanojo – "Futari Nara" by BiSH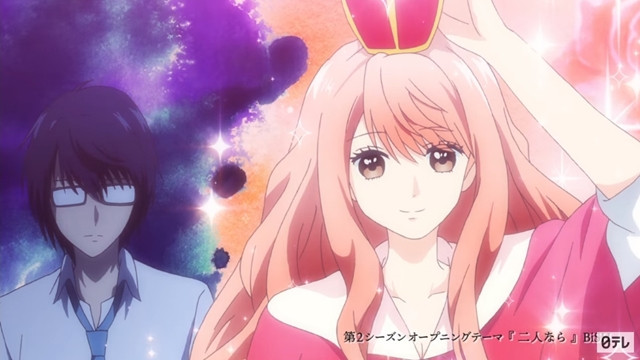 I'm honestly just a little bit amazed this made my list. The anime is so-so, and the first opening was a little lackluster, but this second season's opening is honestly one of the most fun to listen to in my opinion, and it's definitely my favorite shoujo opening of the season so far.
4) Egao no Daika – "Egao no Kanata" by Chiho ft. Majiko
A great example that anime openings don't have to be super flashy to be good. This song is what makes the opening great, and even though it's paired with mostly still imagery for most of it, it creates a very simplistic but still intriguing opening. Plus again, this song is like the best to karaoke.
3) Dororo – "Kaen" by Ziyoou-vachi
So…remember how people get lost in songs? Take for example the my hero opening, or unravel or, literally anything else that was super hyped? That's pretty much what I see happening with this opening. While not an immediately appealing song, it grows on you. However, I think it has one of the most unique sounding openings that fit the tone of the show, as well as interesting visuals that are truly eye-catching. I've listened to this upward of 40 times now.
2) Sword Art Online -Alicization- opening 2 – "Resister" by ASCA
I hate myself for giving SAO season 3 yet another spot on my favorite list. As abridged version of Kirito would say: "how dare you make me care about this!" Okay, but self-resentment aside, this second opening brings a great energy with it. The song is lit, the visuals are even more stunning than the first opening for this season (don't know how that's possible), and of course it gives my boy Eugeo some good featured shots. That and I truly appreciate that moment of bloodied Kirito—super nice touch. What I love more about this opening though is that it ends with a impeccably timed handshake between Kirito and Eugeo. I literally can't. Too fucking good. Also notable that there are actually multiple versions of this opening…so like, kudos to the animators for wanting to do that and making them all so on point.
Honorable Mention: Fukigen na mono – Long Time Traveler by Mono Palette
I really had to find a place for this on the favorites list because honestly this is the most fun opening of the season in my opinion. It's cute, bouncy, and I don't know. I get this one stuck in my head all the time even though I know there's way better openings out there. So I had to give it an honorable mention.
1)Domestic na Kanojo – Kawaki wo Ameku by Minami
The ONE thing that was able to beat SAO for opening came from a place I'd least expect. While I'm still not sure how I feel about this anime as a whole, I can wholeheartedly say that it has one of the most well thought out openings of the season. Everything in this is just amazing—from the absolutely stunning song itself, to the way the visuals plays with the contrast of monochrome and color, as well as reflections within buildings (a tactic that reminds me of a Tokyo Ghoul opening). Somehow, this opening is just hitting all the right notes with me, and again…IT CAME FROM THE MOST UNEXPECTED PLACE. Like, I honestly just…I don't know about this anime. I really don't. Maybe I'll try to do a first impressions on it, but for now, just know that this opening is fantastic.
Funniest opening: Hinomaru Zumou opening 2 – "Be the Naked" by Lead
This deserved a special award for a…special opening. I listened to this opening and absolutely died. While I'm sure it's meant to be more serious, I couldn't help but equate a song like this to the ending song of Grand Blue…there's just something about it that's so laughable. But in reality, this song is really good, minus the repeated references to nudity and the fact that literally anyone who only understands english might mistake this for a sex song instead of a sumo anime opening. Still, I kind of love it so this gets a special award too. Also A+ for the manly aura associated with this.
So there you have it! These have been my favorite openings of the season! What do you guys think? Do you agree? Disagree? Let me know what you think in the comments! Link me to some of your favorite songs in the season too! And if you've watched Domestic na Kanojo, let me know about that too. Maybe it'll help me sort out how I feel.
Til next time!
xoxo
Luna