Hello and welcome back to Otaku Thursday! Today, now that the winter anime 2021 season has ended, I figured I would revisit one of the hottest topics (and the one anime that hasn't left my brain space nor my phone playlist)–SK8 The Infinity. And more importantly, we gonna look at the one thing Star and I were hoping against all hope that we weren't signing up for–was Sk8, gonna end up as bait? Let's get talking.
---
So. Star and I, when we first watched this, didn't want to get hurt again. We had just watched The Jeweler Richard and were hella baited with a definitely romantic relationship that never got like a real solid moment. Like it was so clear those two main characters felt something for each other but we never got a label on it. Which was…annoying. And BAIT. Because Star really wanted to at least see a kiss or a confession, but that like only pseudo happened. It was…irritating. So when we first watched Sk8, we were like–okay so far Reki and Langa are best friends? Haha, no bait here. But nope–we were wrong. So wrong. Our wish to not be baited again was quickly thrown out the window with tropes upon tropes that pushed Reki and Langa toward each other in a what I choose to believe is a romantic way. We just never got a kiss, or a real confession, but we were definitely dangled the possibility (and I would argue, probability) that these two felt a little more than friendship for each other. So let's just revisit some of these moments were we felt hella baited (also don't get me wrong, even though we were fish on a hook, we loved this series).
So, one of the clear places that we felt was prime bait quality was actually the way that Reki was impressed with Langa's skateboarding jump (y'know this moment where he says it was as if it was actually snowing). I think I actually mentioned this in my original first impressions of the series, but that moment reminded me a great deal of the moment in Banana Fish where Eiji pole vaults over a wall in front of Ash. The shot, the wording, and the entire atmosphere of the scene greatly resembled each other in my opinion. And it was that moment that I felt like we began to border bait. After that, the way that Reki and Langa talked about each other in admiration and the way they looked at each other, was just…SUS. It felt like it went beyond simple admiration or friendship. Especially during their falling out. During this time, we saw them both feeling very conflicted, but in a way that hit harder. Like Reki and Langa, ending their friendship in the rain. Reki, staring at Langa's reflection through the window pane. Langa, being motivated to victory only by hearing Reki's voice. We started getting some real BL vibes all up in there.
Then there was Langa's mom. Langa's mom who thought that Langa was acting weird because he was in love and missing someone. Like dang mom, confirm Langa's got some romantic feelings for Reki, why don'tcha? It was a blatant moment of bait. A moment where BL fans alike would get a glimmer of hope in their hearts that we would get a canon confession by the end of the show. But no. That's not what we got. Sure, what we got was great…but it was bait all the same. From that point on, every Renga moment just felt like bait–from whispered promises, to Langa calling Reki his happiness, to that jump hug when Langa wins against Adam. LIKE, gosh darn it Sk8, stop playing with my heart like this. I didn't sign up for bait, but that's exactly what I got (AND WORST PART WAS I WAS HAPPY TO BE BAITED). Did we need a full on confession? No. Honestly we didn't, but without one it definitely teetered fan service (and I'm sure people out there will say no they are friends because no confession). But y'know, it's canon as far as I'm concerned. It's canon in my heart.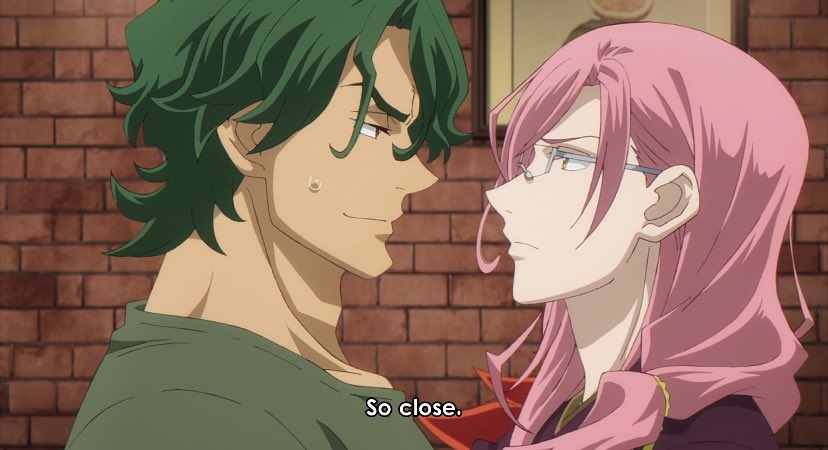 Now, onto other shipping matters aside from Renga–we KNOW that here's definitely some potential for matchablossom shipping in the show. And if you don't know what matchabossom is–yeah you do. You just don't know that's the ship name. That is the pairing of Joe x Cherry, who are old friends. They definitely take on the hate-that-I-love-you dynamic. But they do share some genuinely bait (and ship-like) moments. Cue–beach episode. Cue–hot springs episode. Cue–Joe carrying Cherry in his arms episode. Honestly, Star and I were expecting to be baited with matchablossom, but the Renga content–that was more than expected (but again welcome). Oh! But the one ship/bait moment we NEVER expected was the young Ainosuke/young Cherry moment. That flashback bit where Adam caught Cherry and Cherry like was in awe was like–excuse you? Are you trying to convince me Adam was sweet once (lies)?
---
Anyway, this turned into a rant post because I honestly just needed to say some things. Because Sk8 ended up feeling like B8, but it was also canon in my heart. But it was also just such a great show and such a fun time (okay–anxiety inducing whenever Adam showed up on screen. We need a no-no neko up in here to stop him from manhandling teenagers). Overall, Star and I had a good time with Sk8, and personally loved that the point of it was nothing more than to have fun. Not be the best, not be amazing, just to have a good time hanging out with your bitches, bros, and non-binary hoes.
Stay weebtastic,
xoxo
Luna